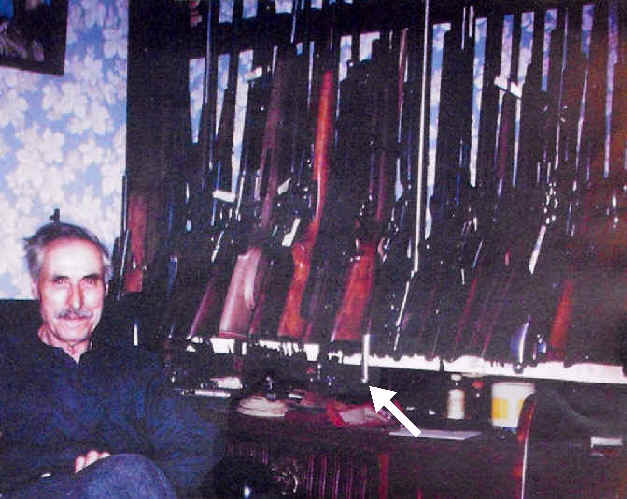 William (Bill) Staege (May 21, 1880 - Nov. 1, 1962) 243 396328527

The above 1955 "cropped" photo shows Bill in his "Gunsmithing Home" with dozens of rifles waiting for his touch.

No one knew William Staege better than Ed Yost. His relationship with Bill from a young age on, led him to pursue a lifetime dream of shooting and building guns. It is through Ed's Diary that we gain some insight about Bill Staege, his friend and Mentor.

=============================================================================================================

Ed Yost' Diary; "..... It was in 1938 I first became acquainted with Dr. W. T. Disch, a dentist in Winneconne, Wis. and William Staege, a lifetime practicing gunsmith of Omro, Wis. ....."

=============================================================================================================

Very little detailed information exists these days about Bill Staege. His life and works are now a generation removed.


For those unfamiliar with the name Staege, William (Bill) Staege was a Wisconsin Gunsmith of National Fame featured on the cover of the American Rifleman Magazine in January of 1941.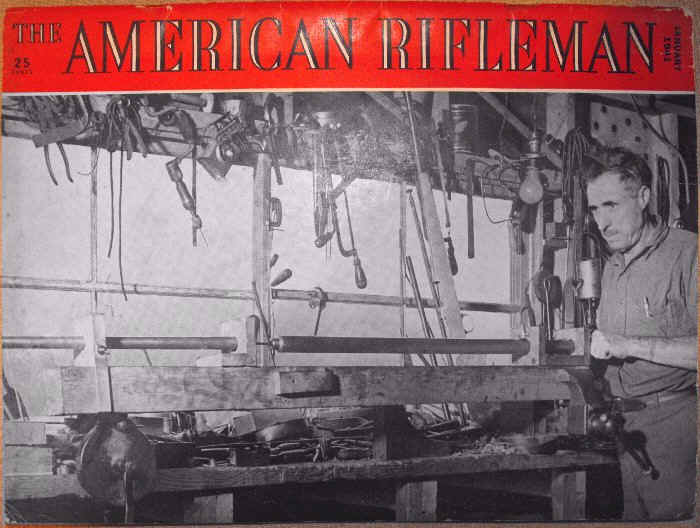 COVER PHOTO:
Courtesy Riley Kellogg, Tucson, Arizona. Picture is of William Staege, gunsmith, of Omro, Wisconsin, rifling a barrel.


Bill worked at the gunsmithing trade from about 1910s until 1962. He was last interviewed by the Appleton Post Crescent Newspaper in July of 1961. The ensuing July 15th article featured his picture and a short description of his life as a practicing gunsmith of National Fame.
A copy of the article is reproduced below. (modified to 3 sections to fit this forum)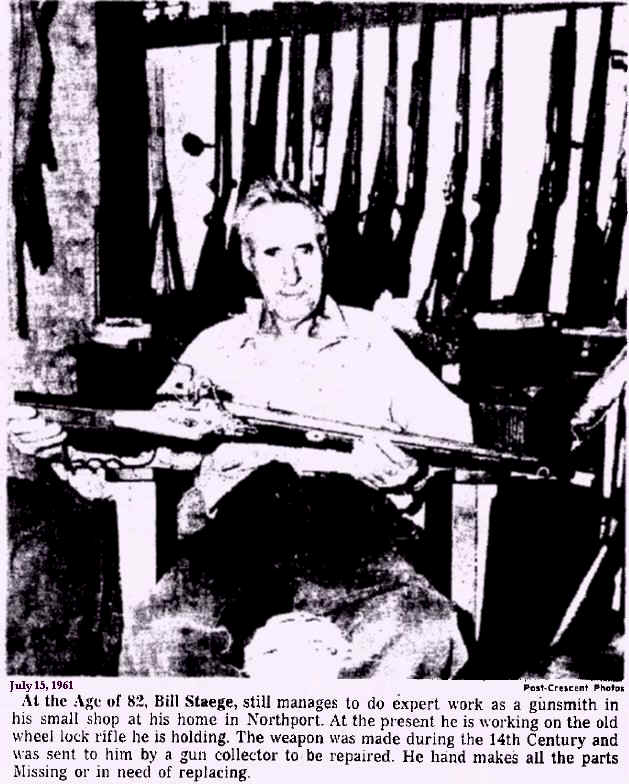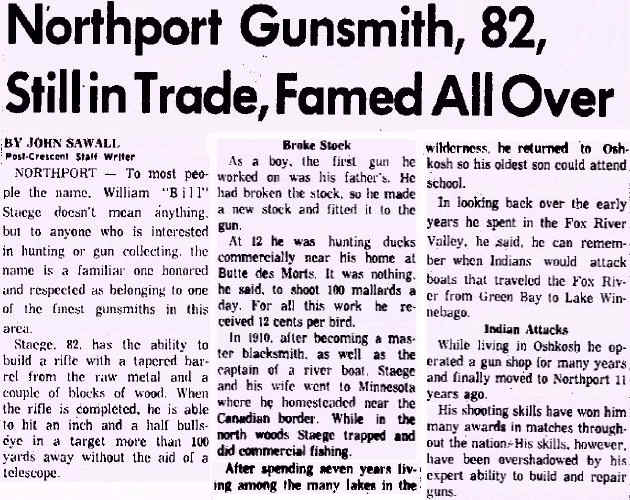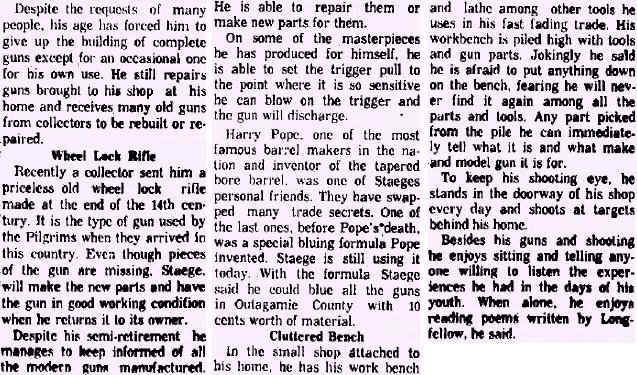 As noted in the article above, Bill moved around and lived in several Wisconsin cities. His work is stamped with the various cities where he lived at the time the work was completed. His works can be found with the following stampings.
" WM. STAEGE. "
" WM. STAEGE. OMRO. WIS. "
" WM. STAEGE & SON. OMRO. WIS. "
" WM. STAEGE. NEW LONDON. WIS. "
" WM. STAEGE. NORTHPORT. WIS. "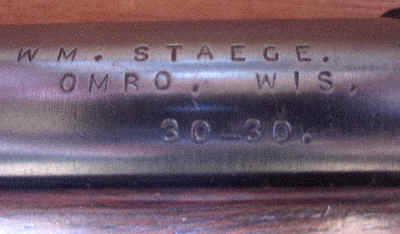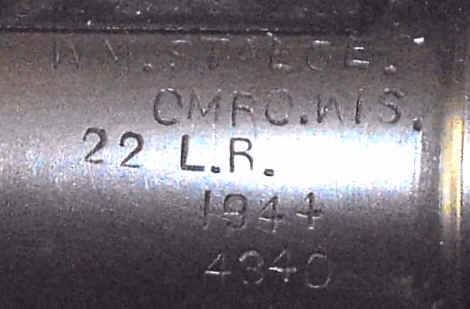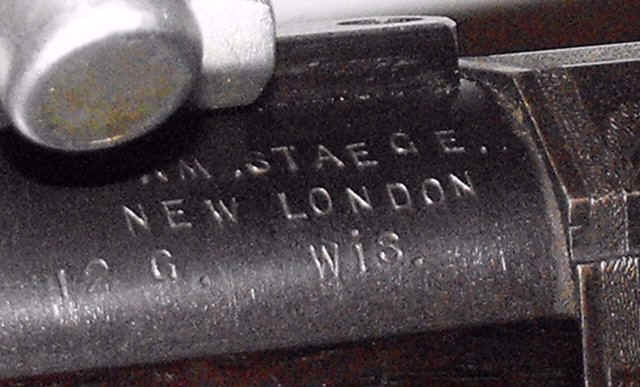 His work covered a variety of skills from simple gunsmithing repairs, to building barrels for pistols and rifles, to building stocks. On a few occasions, he built complete guns from scratch. Some rare examples of his work, even included his hand at engraving.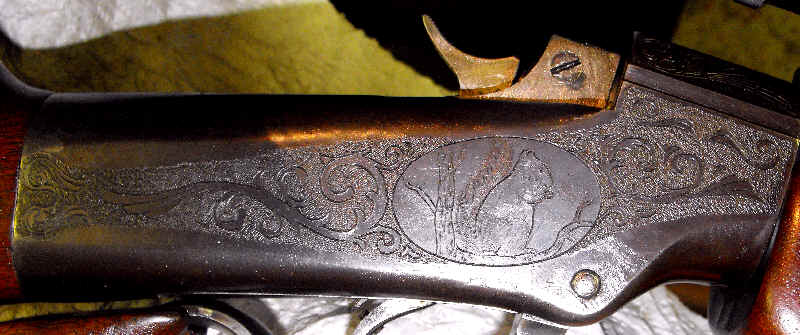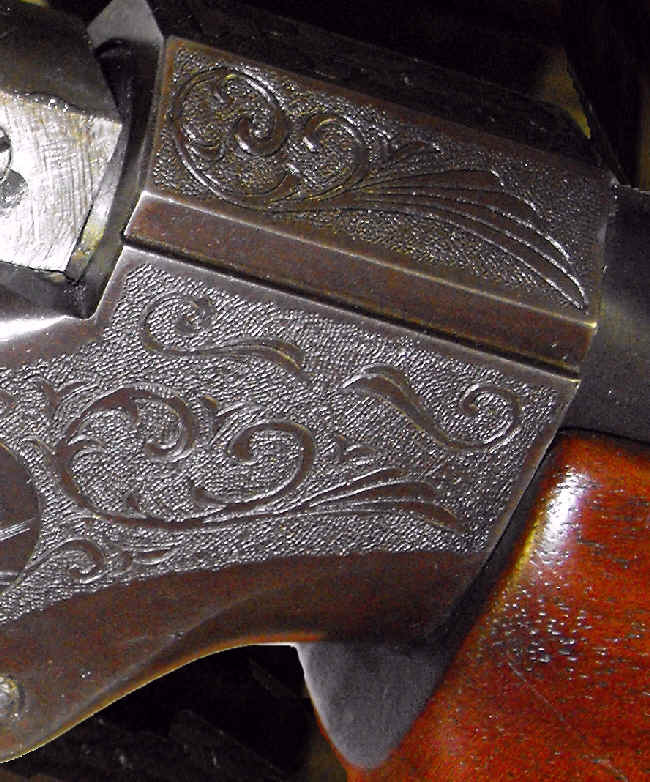 Bill hand engraved a Squirrel with decorative Border Scrolls on the right side of this 22 rf cal. Marlin Ballard,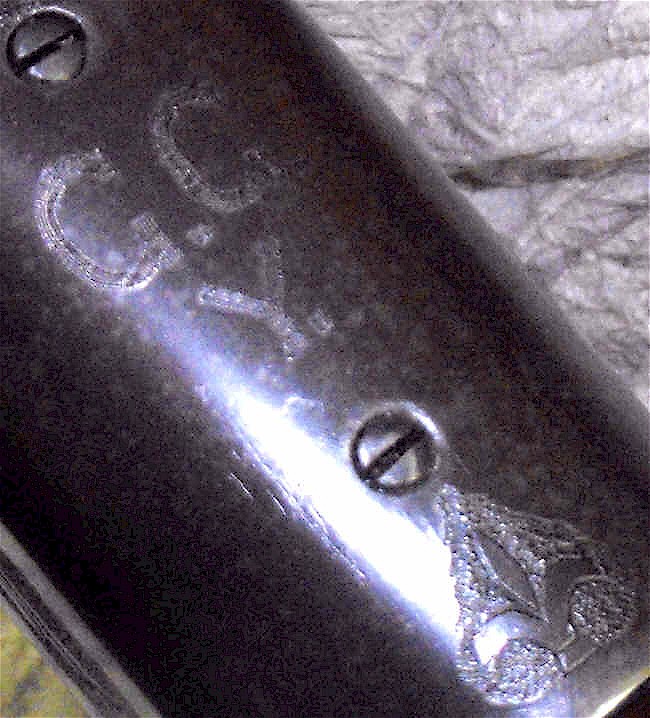 and a Rabbit with Scrolls and Vines, on the left side. The tang has the owners initials "C.C.Y." with Fleur-de-lis.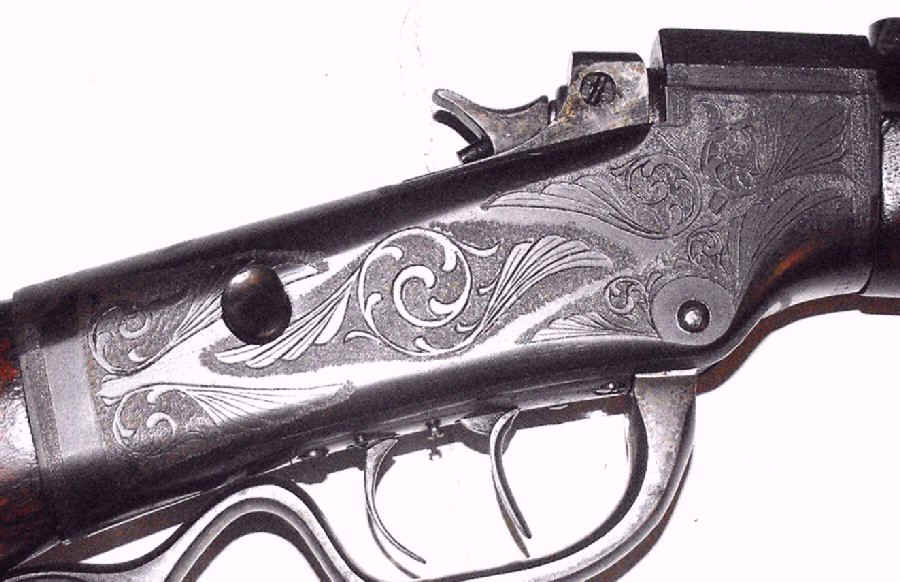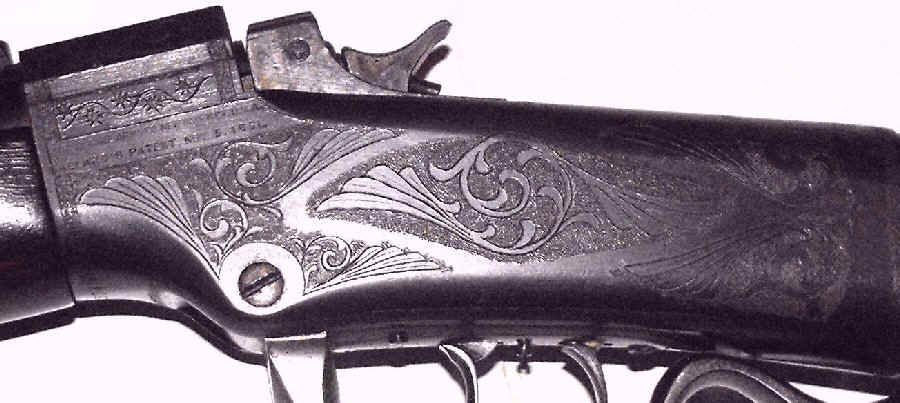 Bill engraved decorative Swirls, Borders, and Feathery Scrolls on both sides of this .22 rf cal. Marlin Ballard.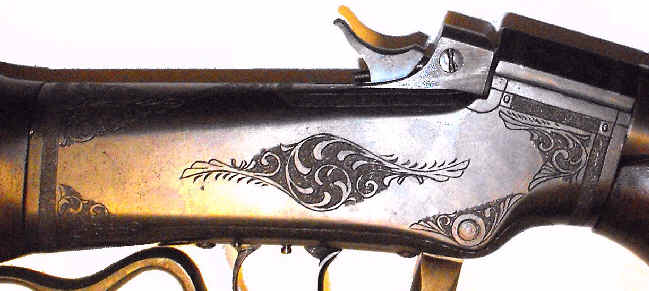 Bill engraved similar decorative Swirls, Borders, and Feathery Scrolls on both sides of his personal 32-40 cal. Marlin Ballard. A little more elegant in style as his engraving improved over the years.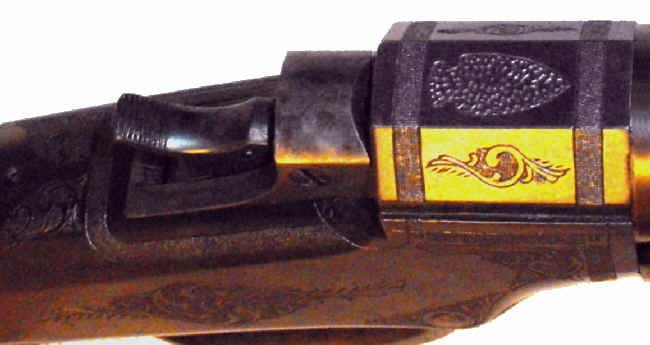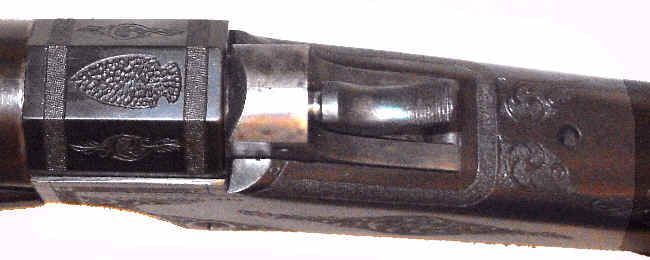 Fancy Border work with many decorative Swirls cover the entire action. Bill decorated the top panel with an Indian Arrowhead.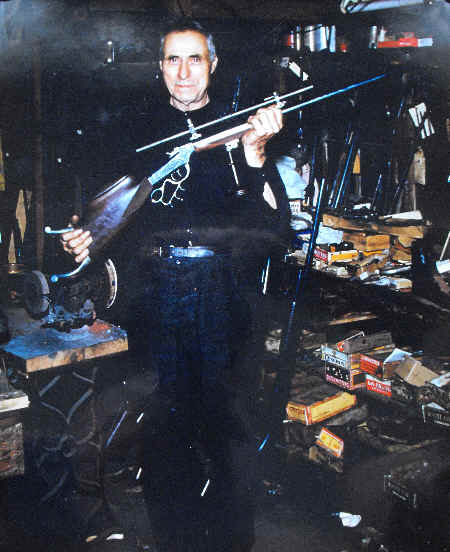 Here we see Bill in his busy workshop holding one of his fancy creations; another rare Engraved Marlin Ballard Schuetzen Rifle.
As well as being a Master Gunsmith, Bill was a long time member of the Black Wolf Schuetzen Vereine and was an active - "very successful" Schuetzen Shooter at the club during the same time he pursued his gunsmithing trade. It was through shooting at this club that he became known to Ed Yost. It was Bill Staege that ultimately inspired Ed's interest in rifle building. The following short articles appeared in the Oshkosh Northwestern giving match results of the annual shoots held at the Black Wolf Club. These first 3 appeared on - July 26, 1938 - August 11, 1952 and August 3, 1953.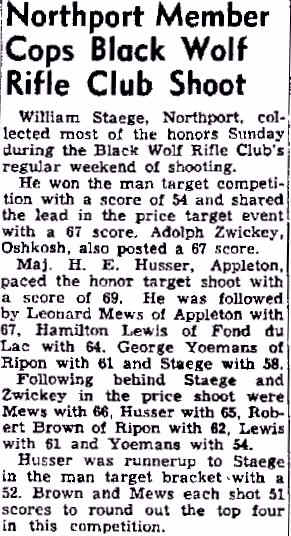 As you read these historic clips of the past, you find the almost forgotten names of many men lost to time. Names like Staege, Yost, Mews, Disch, Hussner, Lewis, Buch, and others. Of particular interest is the name Leonard Mews, a World renowned Stockmaker who worked for Roy Weatherby in the 1940s. Leonard was credited by Roy with creating the original design of the classic Weatherby stock. A design that still exists to this day. Leonard was also an avid Schuetzen shooter at the Black Wolf club and shared his stock making knowledge with his friends Bill Staege and Ed Yost.
This following article appeared on August 8, 1955 and lists the name "Ed Yost" in close company with his Mentor, Bill Staege.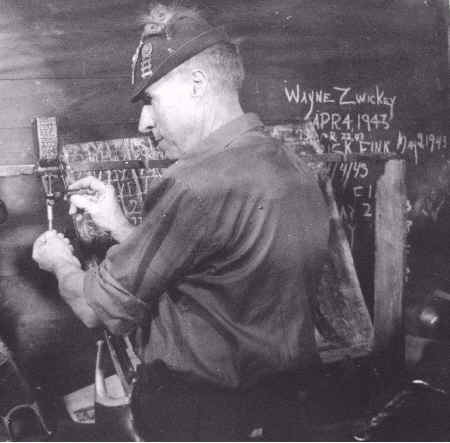 Here Bill is loading a cartridge during a 1943 Schuetzen Match at the Black Wolf Schuetzen Vereine. Note the Powder Measure.
Also of interest, is Bill Staege's little known Skill of making hand forged knives. Bill was a Master Blade-Smith and taught these skills to his very close friend, and future famed knife maker, Clarence "Pete" Heath, from nearby Winneconne, Wisconsin.

A very rare Stag handled hunting knife with a 7" blade. Made by Pete Heath circa 1960.
This newspaper article recently appeared in The Winneconne News.

This following article appeared in the March 1982 edition of The National Knife collector, by Glen Lambert. It gives a little History about Bill and includes some interesting information about his knife making friendship with Pete Heath.
A copy of the article is reproduced below. (modified to 3 sections to fit this forum)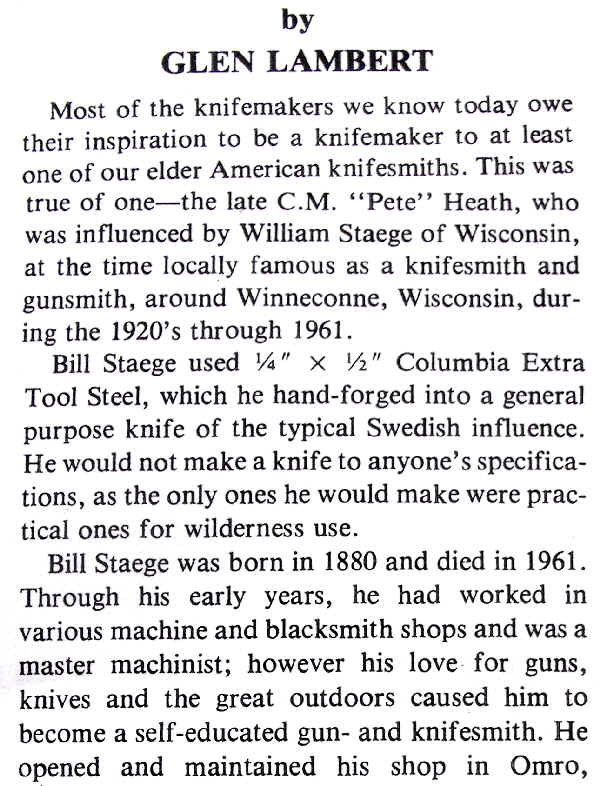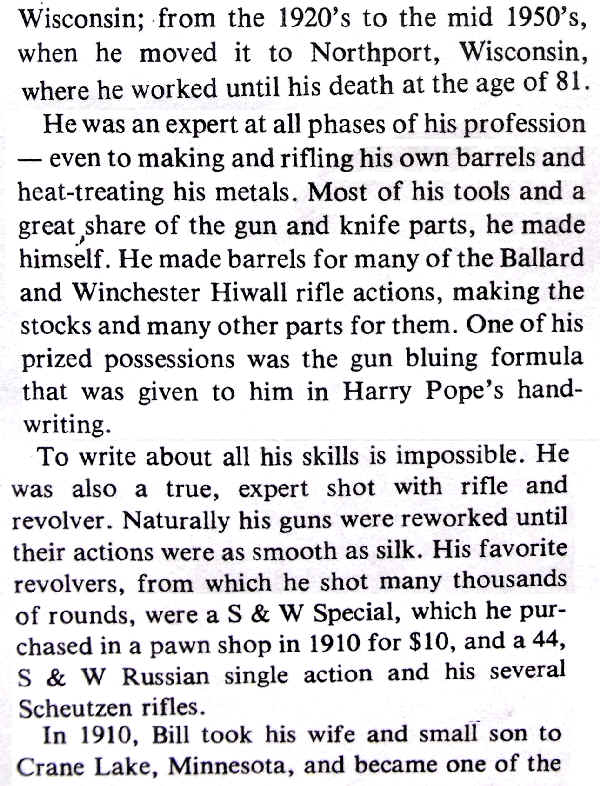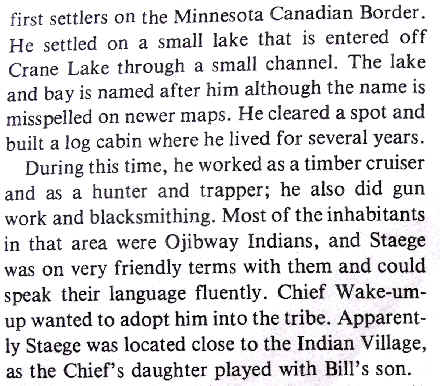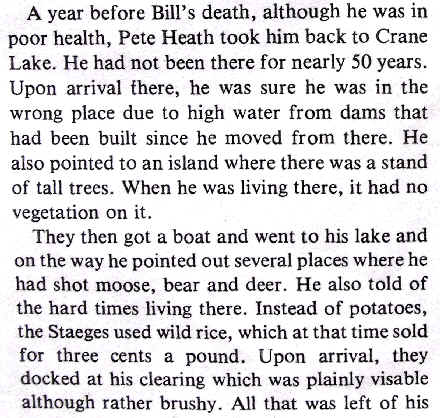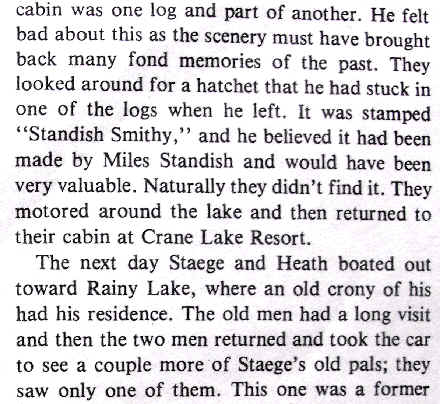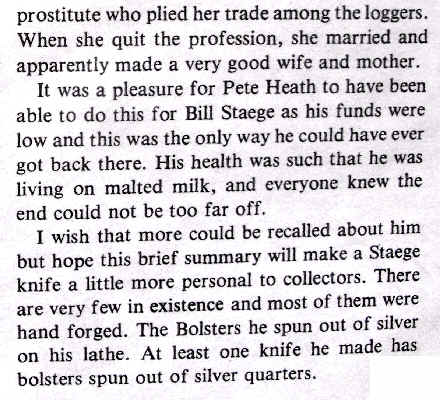 Two Ivory handled examples of Bill Staege's knife making.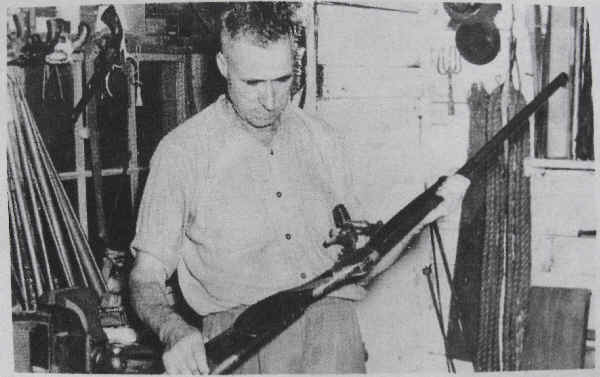 Bill is inspecting a Winchester High-Wall Schuetzen Rifle in his 1940's workshop.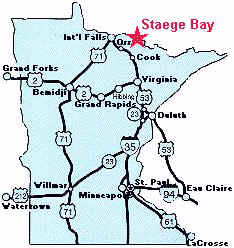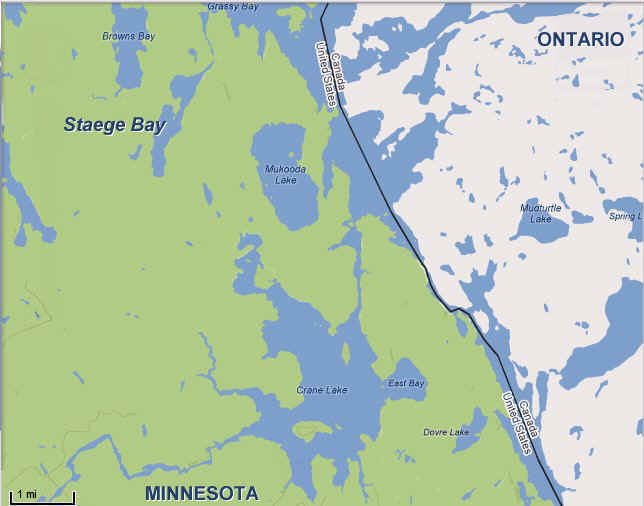 Finding Staege Bay is difficult. And getting there, would be even more so. Possible only with a Canoe.
And here is yet another of Bill's unknown talents, Bill hand-carved this canoe paddle. It is signed "William Staege 1931 ~ ????" (perhaps Eagle?)" Time has almost totally faded the marking into history. The fact that even a faded signature remains after 82 years, is remarkable.

When it came to firearms, Bill's talents were very diverse. Below are shown a few examples of Bill Stage's work which have been collected over the years. Single Shots, Bolt Actions, Lever Actions, Pistols, Bill worked with them all. And each has a story.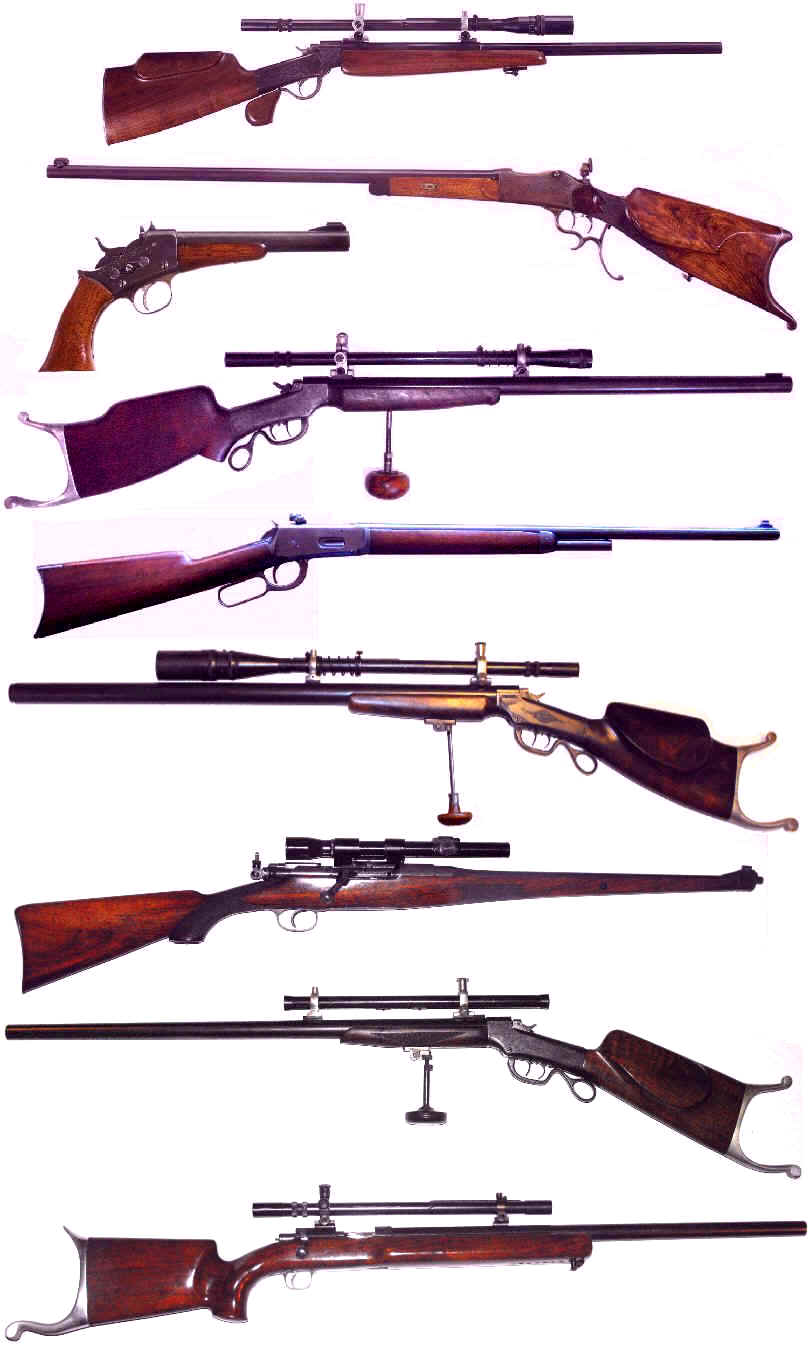 This first rifle is an 1870s Marlin Ballard Schuetzen rifle in .22 rf cal. - Barrel, Stock, Engraving, Breechblock modifications, and Special Single-Set Trigger modifications, are by Bill Staege, Omro, WI. In addition to the Rabbit and Squirrel engraved on each side of the receiver, the letters C.C.Y. are engraved on the back tang of the action. (Engraving pictured above) This rifle was specially built for Charles C. Yost, Ed Yost's brother. Charles used it for 3-Position NRA competition during the 1940's & 50's.
Barrel is stamped; WM STAEGE. OMRO. WIS. 22 L.R.

This next rifle is an 1890s German Martini Schuetzen rifle in 25-35 cal. - Barrel, Front Sight, and Special Schuetzen Diopter Rear Sight, are by Bill Staege, New London, WI. This rifle was one of Bill's personal treasures in his favorite caliber. It was purchased by Joe Race in 1960 when Bill was over 80 years old. After Joe purchased the rifle, he penciled his name and date inside the forend. Joe was Bill's close friend and for many years Joe had pestered Bill to sell this rifle to him. When Bill finally sold him the rifle, Joe noticed that it was not marked with Staege's name. When Joe questioned Bill about the missing stamping, Staege commented that Joe knew this was his personal rifle, as he had been trying to buy it for more than 20 years, so he didn't need to mark it. Joe insisted that Bill should mark the rifle with his name as he wanted to brag to his friends on finally acquiring an original Staege rifle. Bill was a bit annoyed by the request, but reluctantly took the rifle to his bench and started to stamp the rifle's barrel in his usual letter-by-letter fashion. In the midst of the stamping, Bill suddenly exclaimed, "Oh Crap!" - "I just spelled New London wrong!" Exactly why Bill made this mistake is not known. It may have been Bill's 80 year old aging eyesight, or perhaps it happened because he was annoyed and rushed to fulfill the request by Joe. Whatever the reason, now its History.
Barrel is stamped; WM. STAEGE. NEW LONDNON. WIS. 25-35.

This is an early original U.S. Military Model 1871 Remington Rolling Block Single Shot pistol in 22 rf cal. - Barrel, Stock, Breechblock modifications, Target Front & Rear Sights, and "Hair" Trigger modifications are by Bill Staege, Omro, WI. Bill originally barreled this pistol in 32 cf cal., but he later re-lined it to 22 rf cal. and converted the breach-block / firing pin to rim fire, because the ammo was cheaper. Bill used the pistol in competition for may years.
Barrel is stamped; W. STAEGE. OMRO. WIS. 22 L.R.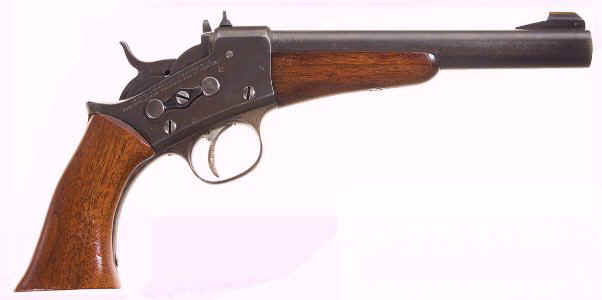 This next rifle is an 1880s Marlin Ballard Schuetzen Rifle in .22 rf cal. - Barrel, Stock, Palm Rest, Breechblock, and Hammer & Trigger modifications are by Bill Staege, Omro, WI. Bill re-barreled and customized more Ballards than any other rifle. Ballards were one of the "Best" Schuetzen rifles of the day, and many say they still are. Good balance and good triggers equaled good scores.
Barrel is stamped; WM STAEGE. OMRO. WIS. 22 L.R. 1944 4340

This is a 1900 Winchester Model 1894 in 30-30 Win cal. - Barrel and sights by Bill Staege, Omro, WI. This rifle was originally a 38-55 cal. with an octagon barrel. Bill re-barreled many old rifles whose barrels were worn-out from early black powder use. The Winchester 30-30 cartridge was "state-of-the-art" and was the most popular deer hunting cartridge in Wisconsin back then.
Barrel is stamped; WM. STAEGE. OMRO. WIS. 30-30.

This next rifle is an Austrian made, Steyr 1903/14 Greek Mannlicher - Schönauer Military Carbine. Bill transformed this ancient Military piece for one of his customers into a fine hunting rifle keeping the original 6.5x53mm caliber. - Barrel, Mannlicher Stock, Forend Cap, Checkering, Trap Butt Plate, and Front Sight, are by Bill Staege, New London, WI. Bill added a Texan 3x Scope on a tip-off Pachmayr mount. Bill also added a rare Lyman Bolt Peep sight. Tip-off mounts and back-up iron sights were standard equipment on a hunting rifle back then, because scopes were not as reliable as they are today.
Barrel is stamped; WM. STAEGE NEW LONDON WIS. 6.5X53MM.


This next rifle is another 1880s Marlin Ballard Schuetzen Rifle in .22 rf cal. - Barrel, Stock, Checkering, Palm Rest, Breechblock, Thumb Rest, Hammer modifications and Engraving are by Bill Staege, New London, Wis. (Engraving pictured above) Also of special interest is the Thumb Rest that Bill added to the right side of the action. Although it looks strange, it is very functional and aids in steadying the the hand for better trigger control when shooting offhand.
Barrel is stamped; WM STAEGE. NEW LONDON. 12 G. WIS. (12 G = 12 groove rifling)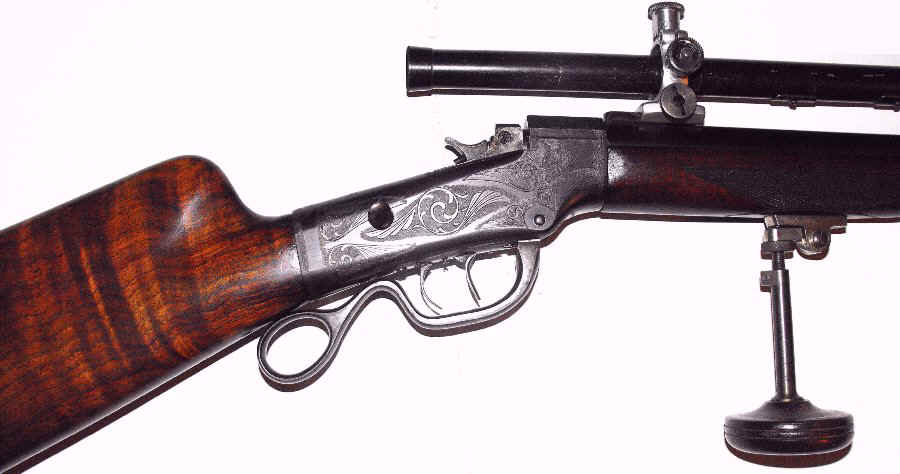 This next rifle was Bill Staege's personal 1880's Marlin Ballard Schuetzen rifle in 32-40 cal. The rifle can be seen in the shadows at the center of Bill's Gun Rack in the picture shown at the top of this page. (see white arrow) - Barrel, Stock, Palm Rest, Breechblock, Hammer & Trigger modifications, False Muzzle with Bullet Starter, Loading Tools, and Engraving were all done by Bill. (Engraving pictured above) Note: This rifle's barrel has the seldom seen marking; "WM STAEGE & SON. OMRO. WI." This Behemoth rifle, with its 1-1/4" dia, 28-1/2" long barrel, weighs in at just under 18 pounds. However, it balances perfectly for shooting offhand.
=============================================================================================================
Ed Yost's Diary; "..... I have many pleasant memories of those early days mingling with the older shooters who were using false muzzle loading 32-40 rifles. ....."
=============================================================================================================
This is the only Staege rifle known to have such a "False Muzzle" configuration. This was the rifle that Ed Yost witnessed Bill shoot, back in the late 30's and into the 50's. The rifle still has its complete Shooting Kit. The Kit contains; False Muzzle, Ivory Handled Bullet starter, Lube Pump, 2 Breach Seaters, and a wad punch, all made by Bill Staege. Other items in the box are; a Pope re-decapper, a Lyman #5 Powder measure, an Ideal Perfection bullet mold, and misc. brass and bullets.
Barrel is stamped; WM STAEGE & SON. OMRO. WIS. 32-40.

Shown below are the contents of Bill's shooting box for the rifle above.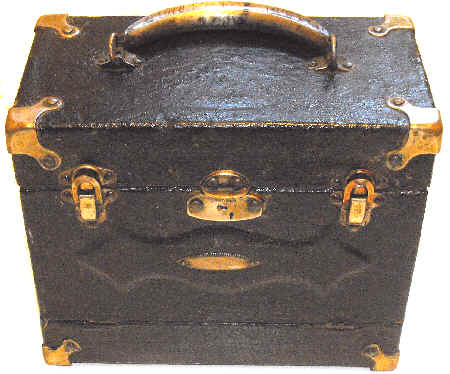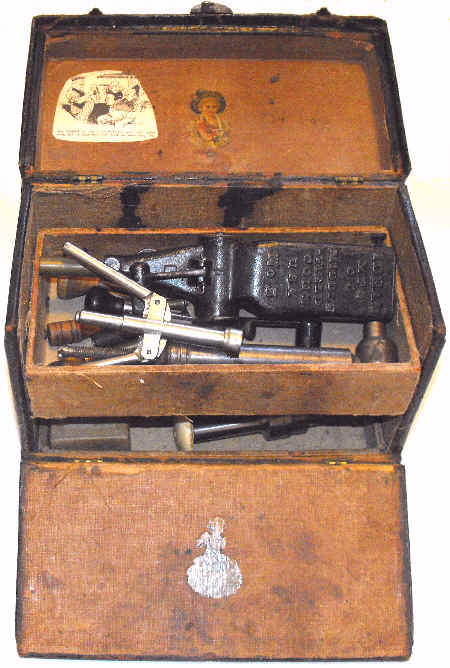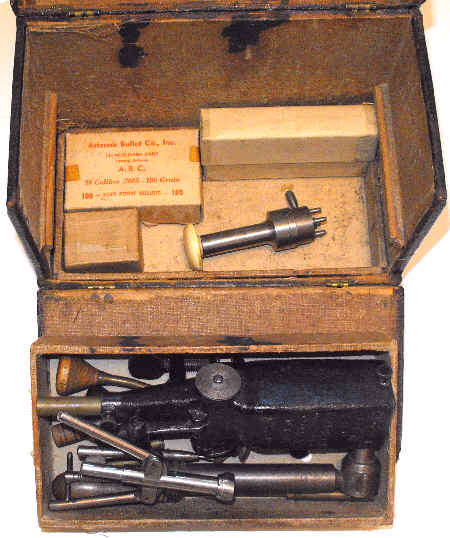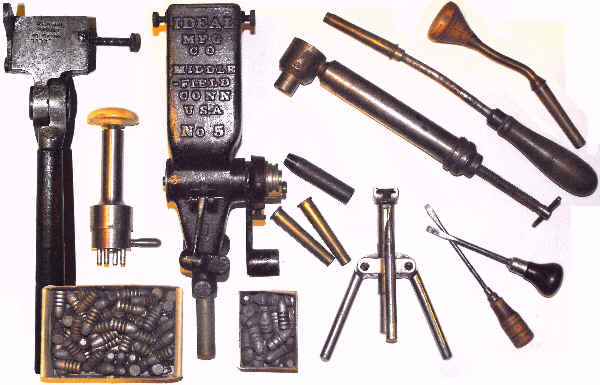 The muzzle face of the barrel is precision drilled with four holes to accept the False Muzzle. It is used in conjunction with the Bullet Starter, to "start" the bullet down the bore. After the bullet is started, it is pushed all the way down the bore using a long seating rod. Next, a powder-charged and primed case is inserted into the breach behind the pre-positioned bullet. The rifle is now ready to fire. Loading a rifle using this muzzle-loading / breach-seating method, proved to be the best way to achieve precision accuracy for many years after the invention of breaching loading firearms. This loading method was preferred "back in the day" for better accuracy, especially when shooting black powder because it reduced powder fowling.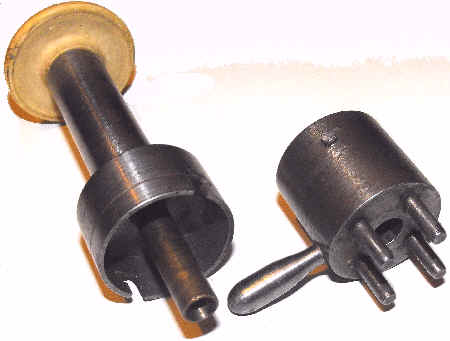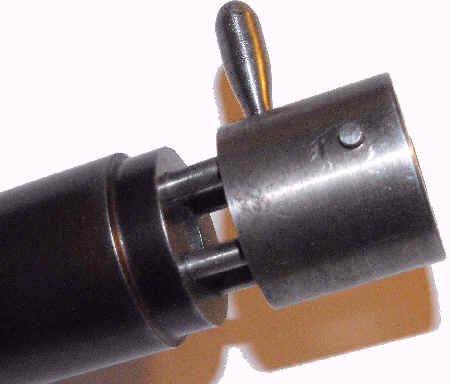 The strange looking peg sticking out the side of the False Muzzle is not a handle. It is there to "block" the shooter's view when aiming through the sights. This would insure that it would be removed before shooting the rifle. Many False Muzzles were lost to places unknown when shooters forgot to remove them before they fired the rifle.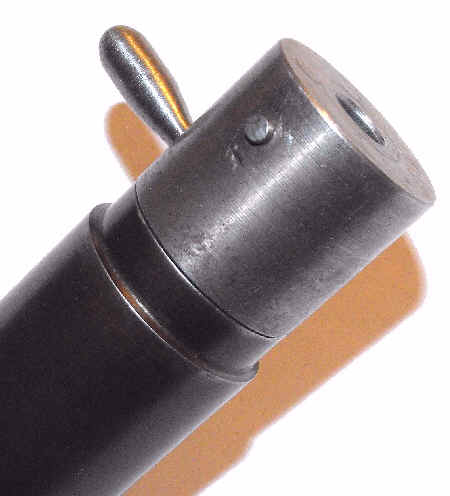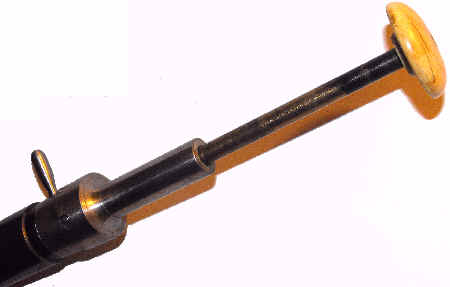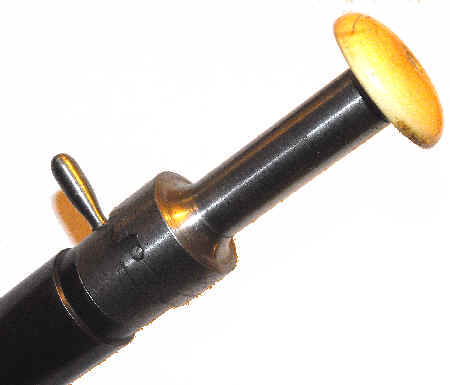 As per the Newspaper articles above, Bill won many rifle matches using this loading method, with this rifle.
=============================================================================================================
Ed Yost Diary; "..... During the 40's, Bill Staege made .22 actions of his own design that were simple and dependable. They were bolt actions somewhat like a 52 Win. ....."
=============================================================================================================
This is a 1940's "Built-from-Scratch" Bill Staege Match rifle in .22 rf cal. - Barrel, Action, Stock, Bolt, Trigger, sling swivel, etc., all by Bill Staege, Omro, Wis. Everything, except the scope, was built by Bill Staege.
Barrel is stamped; WM STAEGE. OMRO. 22 L.R. WIS.

The rifle's 27-1/2" long barrel with 12 groove rifling still puts all its shots into one small hole.

This Staege built 22 rf cal. Match rifle, has many 1940's classic lines, and it does in fact look very much like a Winchester Model 52 Target Rifle of the day. The stock has a widened forend and a palm-swell pistol grip.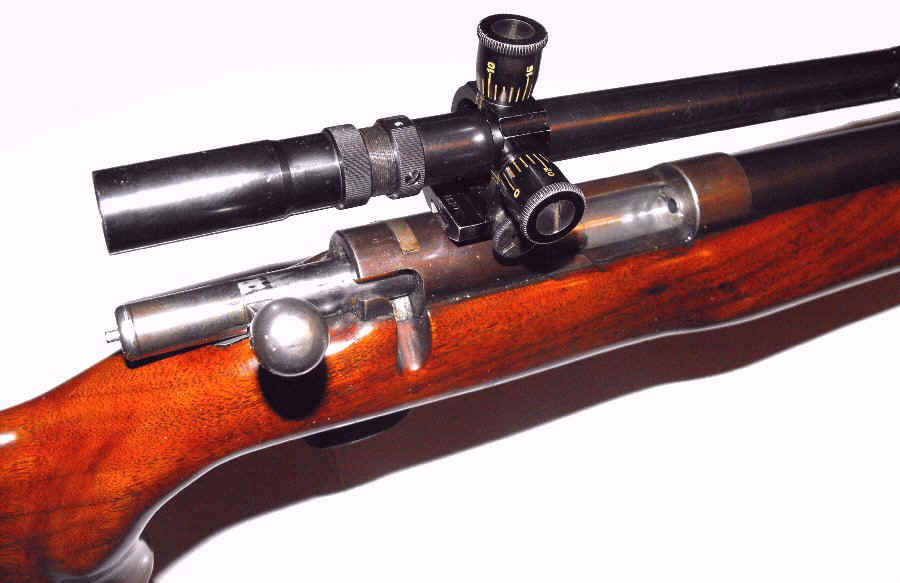 The receiver is made of solid round bar stock with a milled opening for loading and ejecting.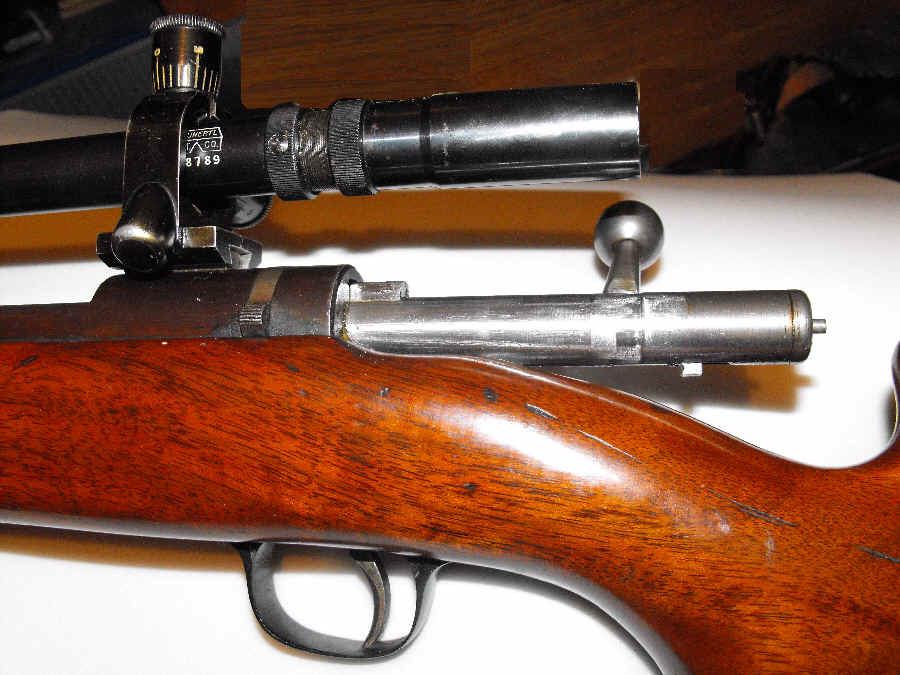 The bolt has a single locking lug that rides in the action positioned "up" at 12:00. When the bolt is pushed forward, and closed, it rotates the lug to the 3:00 position in the action's opening. The strange looking device at the left rear of the action is the bolt stop / bolt release. It intersects the locking lug's rearward travel. Pushing the knurled button at the bottom near the stock, raises the bolt stop and allows the lug to pass-by, and the bolt can be removed. The bolt has dual extractors and very positive ejection. All of the bolt's inners are hand made, as is the adjustable trigger mechanism.
Although this rifle's action is simple, its dependable and functional. The rifle's "character" shows that it has been much used.
=============================================================================================================
Ed Yost's Diary; "..... My skill as a machinist led me to building two, similar to Bill's, ....."
=============================================================================================================
Ed was so impressed with Staege's design, that he copied it, and built two similar rifles in the early 1950s.
`````````````````````````````````````````````````````````````````````````````````````````````````````````````````````````````````````````````````````````````````````````````````````
As you can see from the photo below, taken on May 21, 1955, at Bill's 75th Birthday get together in his Northport gunsmithing home, there are likely many Staege works still out there. If you know of a rifle or pistol, or own one marked "WM STAEGE", please contact at this email address antiqueguns@aol.com so it can be included with this history.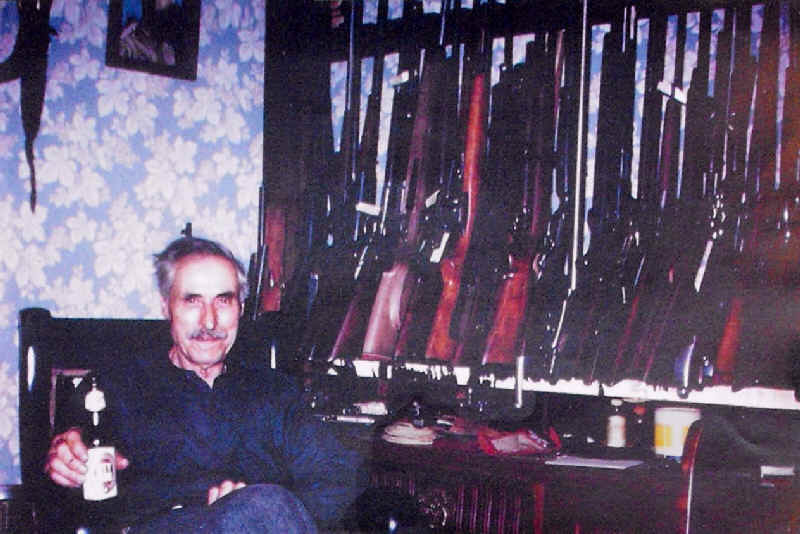 Those that knew Bill Staege, are rapidly fading into the past with him. His friends of the time and all that knew him, all agree he was a wonderful man with a "Happy Spirit" who loved guns, and loved to shoot. And, as you can see from the grin on Bill's face in this "un-cropped" photo, he's inviting you to "stay a while - and visit."
[ Up ]<< click
Copyright 2006-2015, yostactions.com Neenah, 54957